THANK YOU TO ALL AGENTS OF CREATIVITY.

Your mission, should you choose to accept it, is keep passing on Book Two from one scribe to the next. It won't be easy. Evil masterminds conspire to thwart our objectives. But through cunning skill, biros and a no small amount of creativity, our Book and the characters upon its pages, will truimph over adversity. Heartfelt thanks go out to every agent who helps to keep the mission on course! :) x
More rows of plucky adventurers to follow (hopefully).

Mark Lawrence
Amsterdam
Mailed it to Dan on:
10th May 2013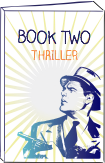 Dan H
Sydney, AUS
Handed it to Kylie on:
19th July 2013

Kylie
Australia
Scribbling genius inside the book at this very moment.