WHAT A WONDERFUL, GROTESQUE BUNCH.

Arrrgggghhh! Who are these deformed creatures of the night . Oh, sorry, they are of course the wonderfully talented bunch who have passed on Book Four again and again . It's terrifying to think our little book might somehow lose its way in the big bad world . But these kind folk are ensuring it finds a safe path through our zombie, vampire or werewolf infested lands .

Huge thanks, you gruesome lot . :)
More grizzly rows to follow (hopefully).

Mark Lawrence
Amsterdam
Mailed it to Andrew on:
10th May 2013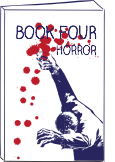 Andrew S.
Wolverhampton, UK
Handed it to Faith on
26th May 2013
Faith B
Birmingham, UK
Secretly gave it to Jamie on:
14th June 2013

Jaime Futers
Gloucester, UK
Posted it to Anna on:
2nd Sept 2013


Anna Middleton
Connecticut, USA
Sent it to her friend Ella on
8th December 2013
Ella Christoph
Brooklyn, New York
Posted it to Conor
22 February 2014
Conor Hughes
Working in Nairobi, Kenya.
30 March 2014
Another scribe writing now somewhere in the world